Skip to product information
Body Wave Lace Frontal Wig (Transparent Lace)
$475.00
Wig: Full Lace (glueless) Full Lace (adhesive required)

Lace:Transparent, Light Brown, Dark Brown

Density: 150%-180% density (fullness guaranteed)

Color: Natural 1b

Hairline: Slightly Customized

Style: As is (natural pattern and selected length)

FYI: Please select "glueless" if you prefer to have the option of weaingr your unit with adhesive or without adhesive

Lace wigs are extremely versatile and can last at least 1 year with proper care. It is suggested to get lace wigs with a density of at least 180% for lots of volume, but a natural look. If you want extra fullness, you can always add an extra bundle of hair to the nape of your wig.Please consult with a professional to do this or select this option when placing your wig order and we can customize it for you.

This is suggested for more volume, verses ordering a higher density, which can cause extreme fullness towards the root and cause tangling.Thank you for shopping with us!! Please contact us on our online chat (homepage) if you have any questions and need answers immediately!
Shipping Policy:
We ship to all locations within the United States and internationally.
Orders are typically processed and shipped within 2-3 business days.
Shipping rates will vary based on the size and weight of the item(s) and the destination.
Expedited shipping options are available for an additional cost.
No Compromises In Quality

100% Satisfaction Guarantee

24:7 Customer Service
Try Completely Risk-free
HASSLE-FREE RETURNS AND REFUNDS ON WIGS
We mean it! If you are unhappy with a wig purchase, in any way within the first 5 days, we will sort out the return label for you and issue a full refund, hassle-free, no questions asked.
DUE TO OUR HAIR SOURCING PROCESS, HAIR EXTENSION SALES ARE FINAL! REST ASSURED THAT WE CONTINUE TO SOURCE TOP QUALITY RAW AND VIRGIN HAIR EXTENSIONS!!
FREQUENTLY ASKED QUESTIONS
Here at Stylemeup101, we offer worldwide shipping!
This depends on whether it is an International or a Domestic order. All orders within the U.S. are considered domestic orders and they are shipped and delivered within 5-7 business days (standard shipping). Please see International Orders for more details.
We accept PayPal, Visa, MasterCard, Discover, and American Express but feel free to contact us for other payment options.
We will send tracking information to the e-mail address associated with your order once the item has shipped. If you have not received your tracking information and it has been over 2 business day, please contact us at (012) 123 - 4567
When ordering as a gift for someone, be sure to enter in your email address to receive all summary information, but enter in the recipient's name and shipping information. We will be sure to keep all prices and receipts out of the package.
All hair extension sales are final! Wigs can be returned within 5 business days.
WHAT CUSTOMERS LIKE YOU ARE SAYING
1,000+ HAPPY CUSTOMERS
Body Wave Bundles & Lace Frontal
"I absolutely LOVE Shyanne she made me feel so beautiful with my hairstyles. The hair is amazing and the quality is top tier !!"
-Dazia Brown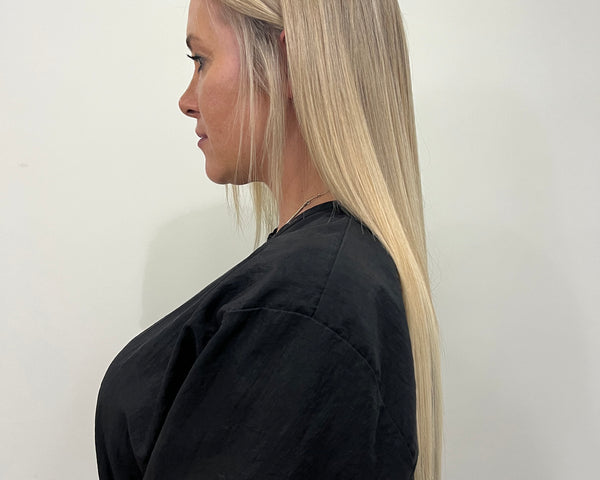 Standard Tape Ins
"Shyanne is the absolute BEST!! I got tape in extensions with her and they look fabulous and were placed perfectly. I've had them before and she's done the best job by far. I can't wait to see her again!"
-Shelby Brady